The Moroccan Lizard Mirror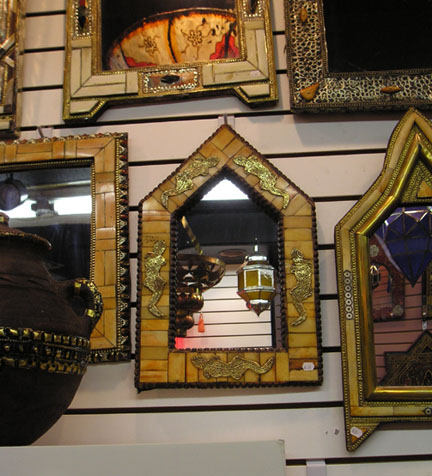 The dried lizard is a common amulet or apotropaion in Muslim North Africa. The motif of the lizard is sometimes used in apotropaic drawings. The brass lizards on this mirror are almost certainly meant to be apotropaic. Other mirrors in the batch displayed obviously apotropaic imagery such as the hamsa, or Hand of Fatimah.
As for the drawings themselves, we note that there are five, the apotropaic number. The shape of the mirror seems to be meant to resemble a house. The lizards, therefore, appear to be running up the walls. The frame of the mirror is made of camel bone.
This mirror was pointed out to me by the owner of the Moroccan crafts store Marrakech Express, to whom I am extremely grateful for letting me photograph everything in his store.